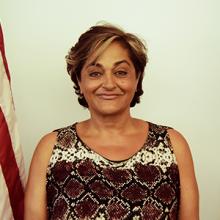 Chief Operating Officer
Suzan Tasvibi-Tanha joined ADOA-ASET as its Chief Operating Officer (COO) in May 2022. Suzan is a leader with extensive experience in information technology, telecommunications, business process engineering, and the development of strong product teams. Her experience and leadership are focused on developing and delivering technology-driven business services and solutions to provide outstanding client services. 
As COO, Suzan is responsible for all aspects of the operations within ADOA-ASET, including Cloud Operations, Service Management, State Network (AZNet Program), and Public Safety Communications (9-1-1 and FirstNet Programs). She is responsible for vendor partnership management in support of 31,000 users across more than 100 agencies.
As a member of the ADOA-ASET Executive Team, Suzan develops strategies to improve client service levels, maximize services, and control costs. This includes the enforcement of the state's outsourced voice and data services affecting over 31,000 state employees. By effectively utilizing technology in alignment with corporate goals to employ cloud-first strategies and unlock new opportunities and value, Suzan's efforts have resulted in a cost savings of $35 million.  
Suzan has been serving the State of Arizona for over 30 years. Prior to her initial retirement in 2018, she was the Chief Networking Officer at ADOA-ASET and subsequently served the state as an IT Executive Consultant to the Arizona Department of Transportation.