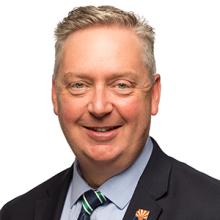 State Chief Information Officer
J.R. Sloan is a results-driven leader with over 20 years of experience in technology and 15 years in leading product and program teams. As State CIO, J.R. oversees technology, innovation, development, and IT policies. He also serves as Chairman of the State of Arizona Information Technology Authorization Committee (ITAC), which approves and monitors high-cost technology projects statewide.
Prior to joining the state, J.R. gained experience in both operational and executive roles in engineering, product management, marketing, business development, and customer service for enterprise software companies. He has extensive experience in leading cross-functional teams, building consensus, and achieving strategic objectives. J.R.'s broad knowledge of business and processes coupled with technology and systems integration experience enable him to effectively engage all parts of an organization. He is customer-centric in his approach and results-oriented in his deliverables.
J.R. is certified in Pragmatic Marketing and Product Management. His educational background includes Electrical Engineering at the University of Arizona and Architecture and Environmental Design at Arizona State University.
In December 2020, J.R. was named to the inaugural Board of Directors for StateRAMP and currently serves as President where he collaborates to assist this organization in bringing a new model to market for how state and local governments can standardize the approach to meeting their cybersecurity requirements in partnership with cloud service providers. In January 2021, J.R. was named a Director of the National Association of State Chief Information Officers (NASCIO) Executive Committee, where he provides knowledge and expertise to the organization while continuing his role as State CIO. In addition, he was recognized as a 2021 StateScoop 50 Golden Gov: State Executive of the Year Award winner.