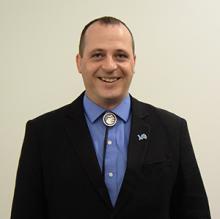 Deputy State CIO
Charles Brown is the Deputy State CIO at ADOA-ASET. His role involves strategic planning activities, advocating continual service improvements and technology changes that provide value and support enterprise goals, working with Service Delivery Managers and Product Managers to meet division needs, coaching and mentoring junior management staff, and making ASET operational decisions while managing functional areas.
Charles has worked at the State of Arizona for more than 20 years. Previously, he was the Director of Engagement Management and Strategic Oversight for ADOA-ASET. Before joining ASET in 2018, Charles served as the Executive Director for the Board of Physical Therapy for 10 years. 
Charles is a veteran of the United States Marine Corps and holds a Bachelor of Science in Business Administration and Management from Grand Canyon University.