IT Inventory
ARS §41-3904 requires ADOA-ASET to maintain an inventory of all IT assets used by this state. Historically we have done this using the ISIS application. That legacy system, which we now refer to as IT Asset Inventory or ITAI, was decommissioned in 2012.
The implementation of the new AFIS Advantage system gives us an opportunity to streamline this process to the benefit of all state budget units. The new process will eliminate non-value-added effort while making IT asset information available to ADOA-ASET without further effort by your budget unit.
Enterprise Architecture collaborated extensively with the BREAZ team to develop a streamlined process and coding structure. Some of the improvements are:
Old ITAI System compared to New AFIS Fixed Asset Tracking

| Old ITAI System | New AFIS Fixed Asset Tracking |
| --- | --- |
| Group/type/code system was cumbersome and unsustainable. | 2,100 unique categories have been distilled down to only 92 Catalog Codes. |
| Agencies kept a separate record of IT Assets. | Agencies will maintain the IT asset inventory in New AFIS as part of their normal business processes to eliminate duplication of work. |
| Agencies reported to ADOA-ASET annually, requiring a focused and time-consuming effort. | New AFIS will send ADOA-ASET an update every month. No additional action is required by your agency to report to ADOA-ASET. |
| End of life of this product meant that agencies had to submit lists in various formats with no consistent contents. Lists were imported into a database manually. | All agencies will use a common vocabulary and consistent coding structure, making the information more useful. |
Historically, budget units also reported applications to ADOA-ASET using a separate ITAI layout. We are evaluating when to resume collecting this data and will communicate further on this at a later date. This will allow budget units to focus their efforts on implementing the new AFIS fixed asset system.
Agencies will maintain the IT asset inventory in New AFIS as part of their normal business processes. This is an overview of how the IT Asset life cycle will work in New AFIS.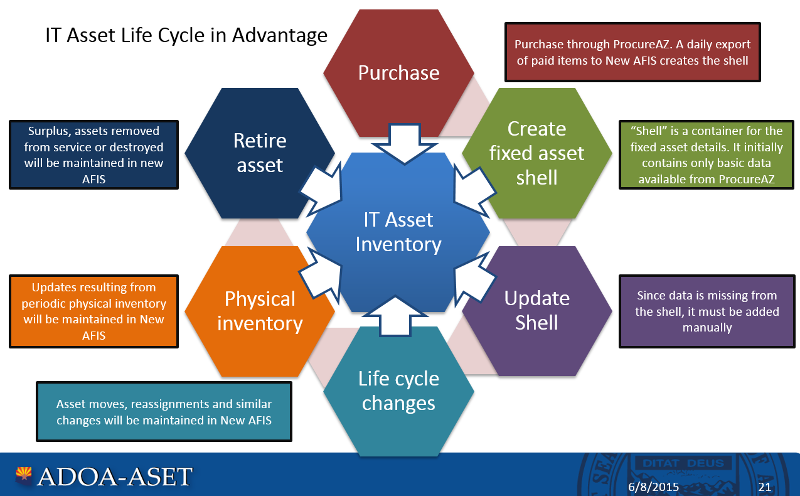 Please use the following guidance documents to help with the transition to New AFIS and contact your agency's BREAZ coordinator for assistance.